Welcome to Oldfield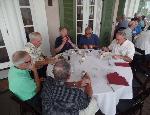 June 2016 Men's Club
Click on the picture to
view the entire album
Today's Events
Tomorrow's Events

Newsletters:

View the July Newsletter!

Click Here to download.

Thank you to Taylor Horton for the spectacular overhead shot of the Okatie River!!!!
---
Quick access to past meetings,

president letters, agendas, etc!

June Letter from the OCA President: Click Here to view

View the Minutes from the latest: OCA Board Meeting Here

Club Board Meeting Here

Community Survey
Results Summary - Click Here
7.25.2016 Community Meeting Results Presentation - Click Here
We want to hear from you regarding issues or items that are important to you.
We now have a suggestions/comments box at the Clubhouse front desk. Submissions can be made annymously, but please remember if it is an item for follow up, be sure to leave your contact information.
---
View your expert guide to Fishing Oldfield's Ponds by clicking here.
View the Oldfield Club Natural Resources Policy by clicking here.

View OCA Budgets & Financials by clicking here.